World AIDS Day
Observe worldwide on 1 December since 1998, World AIDS Day (WAD) is the moment of the year where millions of people  come together across the globe to commemorate people who lost their lives to HIV, applaud progress made in responding to the epidemic and recommit to ending the epidemic.
Join us this World AIDS Day, 1st December 2015 and… Put A Ribbon On It
… as evidence of your solidarity to the fight against HIV and AIDS, and our recommitment to ending the epidemic as we have just done with polio in Nigeria.
Simply wear a red ribbon. There is nowhere the red ribbon cannot go! Get crafty with it – put it on landmarks, people, clothes, buildings, food.
If you have any special skills use them. You really aren't dressed without a red ribbon!
By wearing the universal symbol of HIV awareness – the red ribbon – you are showing solidarity with over 3 million people living with HIV in Nigeria – and the 34 million world-wide, thus sharing in the vision of achieving 'Zero new HIV infections. Zero discrimination. Zero AIDS-related deaths'
'Getting to Zero' is a must and this can only be possible with a renewed activism from all stakeholders. There must be a synergy among the government, civil society organizations and the private sector in bringing the epidemic to a halt. Getting an HIV test (accessing HCT) is imperative and our greatest arsenal in the fight against HIV and AIDS. It is a necessary first step to access prevention, care and treatment services including PMTCT.
Yes, in spite of the remarkable progress made so far, the challenge is still there – majority of those infected by HIV don't even know – HIV thus, will continue to be invincible as long as many, especially the young people who are still largely unaware of their risks to HIV (vulnerable) continue to make HIV invisible by not knowing their HIV status. No one can win a war against an invisible enemy!
Accessing HCT is the only way one can be prompted to take measures to prevent being infected with HIV if one is not infected or access treatment and care if one is already infected, and by so doing helps to control the further spread HIV and reduce its complications. In addition, undergoing HCT helps break the culture of silence, fear and ignorance that drive stigma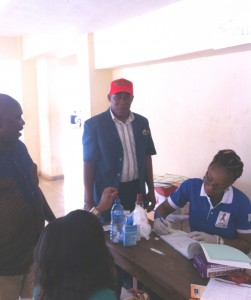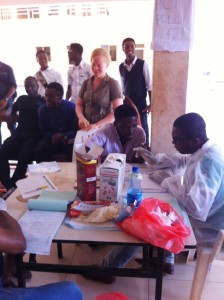 FOR MORE PHOTOS, CLICK HERE VISIT OUR FACEBOOK PAGE